As part of the Public Innovation Week, we organized a Barcamp on the theme of co-imagining a platform for social and environmental action sponsorship. Because it was a great creative day and some of you couldn't make it, we tell you everything here 👇🏽
The encounter 🙋🏻‍♀️🙋🏾‍♂️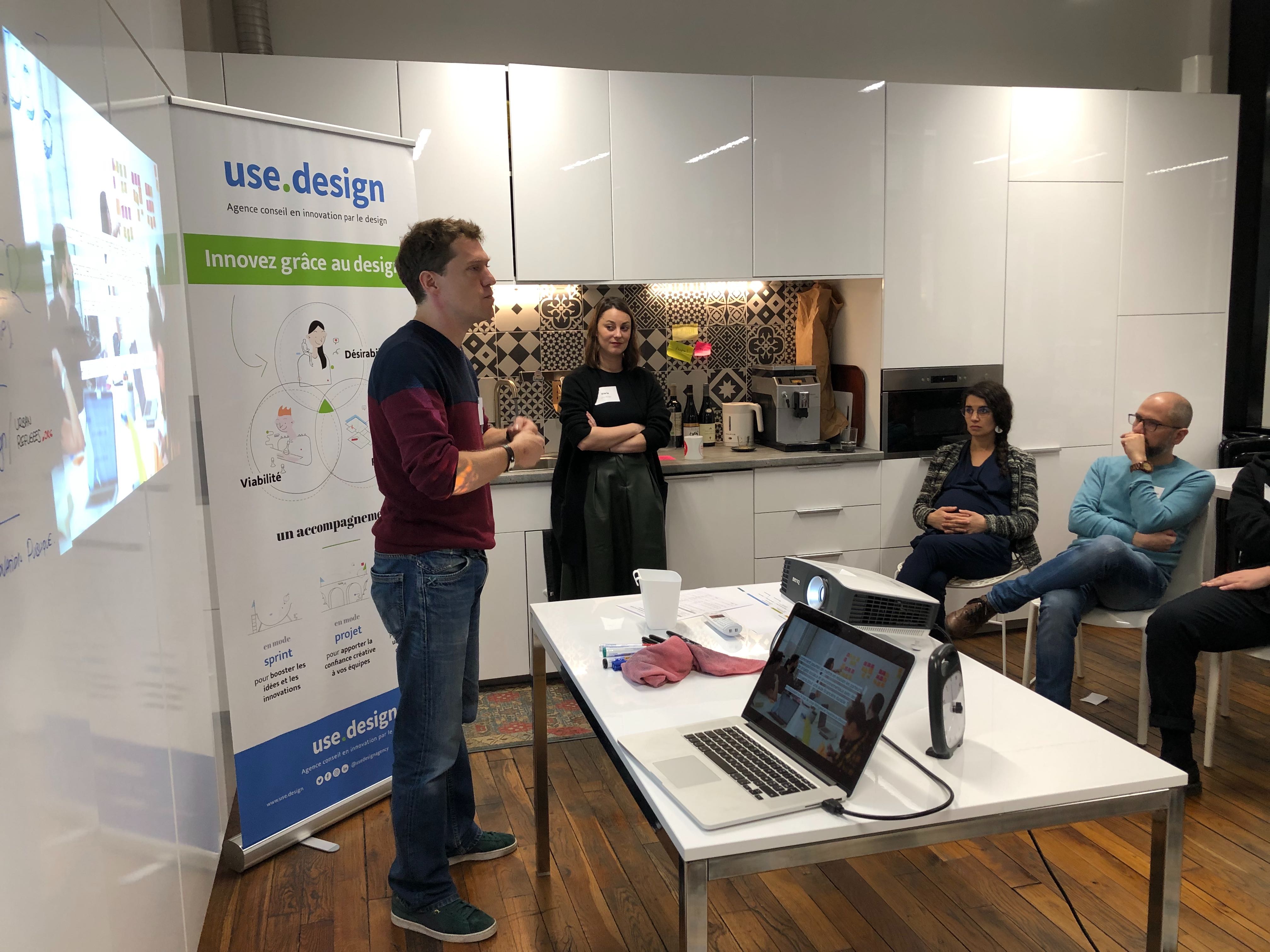 After coffee, taking the time to welcome everyone and introducing use.design, we started our workshop with a warm-up.
A warm-up (you might say) what is it? It is a time when participants are asked closed-ended questions to break the ice. It is very effective when no one knows each other. Who ate too much at lunch? Who is happy to be Friday? Do you have an unusual hobby? Do you think this workshop will make you enjoy your afternoon?
Yes, it might not sound like much, but imagine, depending on the answer, when candidates move forward or backward without saying a word, or when ask themselves existential questions during the exercise… We are set for good laughter!
Then our partners Hugo Venturini for the Arezzo platform and Sonia Ben Ali for the Urban Refugees association introduced themselves.
Indeed, since the idea was to co-design a platform for social and environmental action sponsorship, and since we had only limited time, it was important to allow participants to take into account 2 concrete examples. Arezzo, who through his artistic sponsorship platform gave us the keys to what works and what does not work today with donors and Urban Refugees, who, as a charitable association, came to talk to us about the difficulties they face on a daily basis.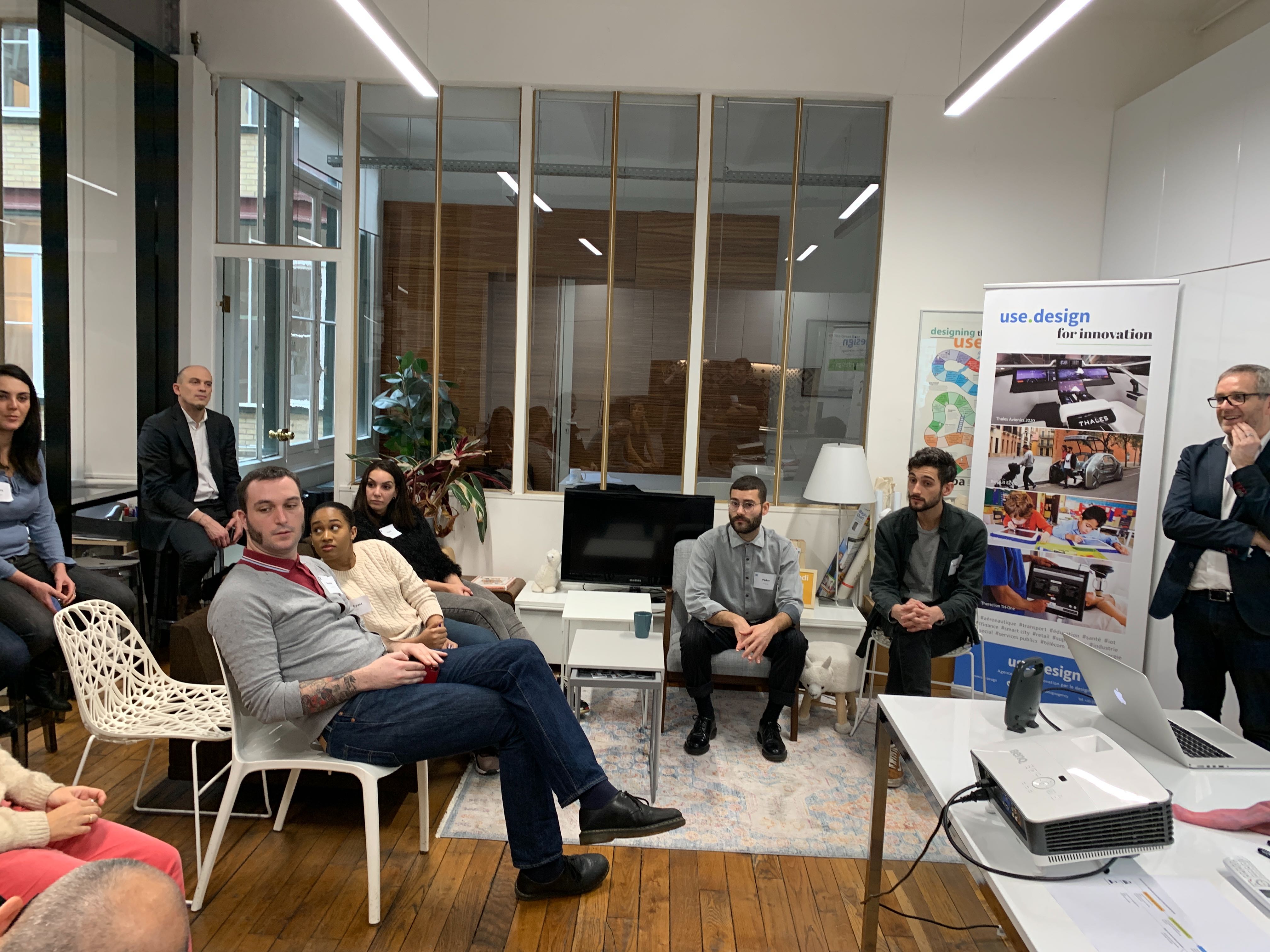 The challenge
As you can imagine, a workshop like this needs to be prepared. Our hard-hitting team of designers (thanks to @Amandine @Jérôme @Pedro) has therefore done – like any other co-creative workshop (Design Thinking or Design Sprint) – a lot of work on the definition of the key topic, the afternoon agenda and the creative materials.
In particular, we reviewed the main question that would represent the problem to be solved: How could we connect the leaders of social and environmental projects with citizens for sustainable financial support?
Then, thanks to our 2 speakers, we decided to specify the scope of what was possible in the face of this problem through 3 main themes. Each of these themes would then be dealt with by a part of the Barcamp participants' assembly, divided into 3 groups drawn by lot:
Group 1: How do we motivate

(Before the donation)

Group 2: How to reassure donors?

(Before, during and after the donation)

Group 3: How to bring resources to a project?

(During the donation) 
Each group therefore took the first step in its ideation work, with the help of a simplified experience path and many tools available in each group….
For people who are curious:
The groups 👫 👭 👭 👬
GROUP 1 – How to motivate people to donate?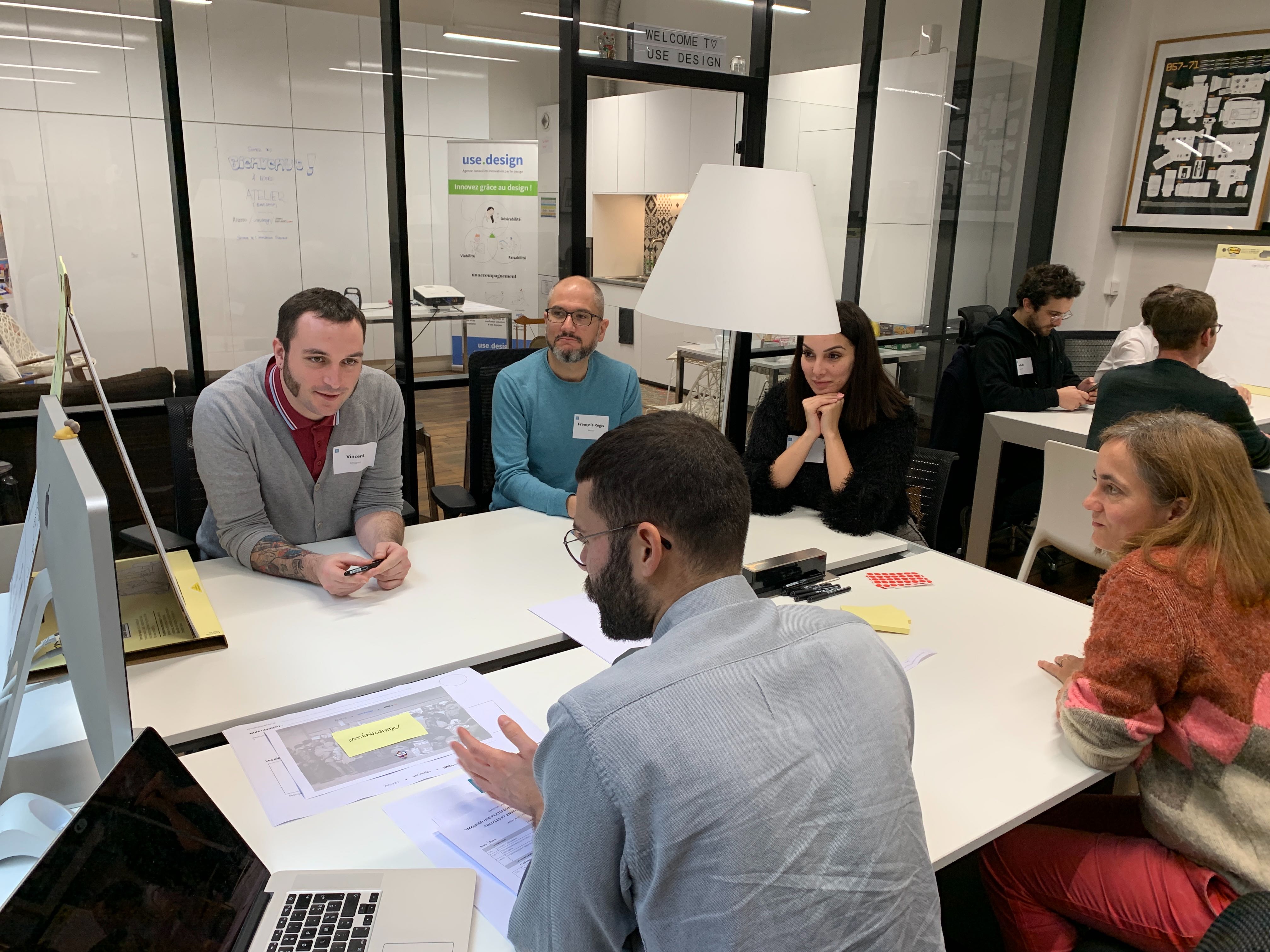 Examples of pain points:
1 – For a (future) donor: "I would like to give, but for a matter that is meaningful to me. However, I do not always have the time to choose from all the projects or actions…"
2 – For a project leader: "I am not a good storyteller or a salesman, how can I hope to convince?"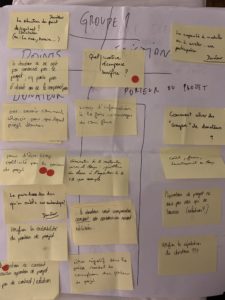 Examples of "How might we…?"
1 – Donor: How could the donor's experience at the beginning of the donation be simplified?
2 – Project initiator: How could we support a project initiator to improve exposure and communication of his or her project?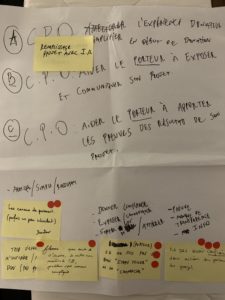 Ideation phase – the profusion!
The group was very prolific in quantity, as well as in quality. An extremely positive dynamic, rebounds of ideas… and all this in 10 or 15 minutes. Great work. From the "facilitated" donation when broadcasting audiovisual programs on television to the donation platform that replaces a monetary donation in shares and likes on social networks… we had a lot of choice.
In order to be able to act within the time frame, always with the objective of finding ways to motivate potential donors, the group decided to focus on some of the ideas that could coexist together. Here are the results :
Idea 1 – Bancodon:
In the form of a "timeline" illustrating the experience of the potential donor on his service, "Bancodon" is based on the notion of savings and the banking system, and on the friction point of "missing time to choose a cause or a project", by postponing this choice to a later date.
First the user saves and then he chooses to whom he gives. In addition, the system, according to the tastes and interests of the user, will be able to propose selections of projects to help him/her in his/her choice.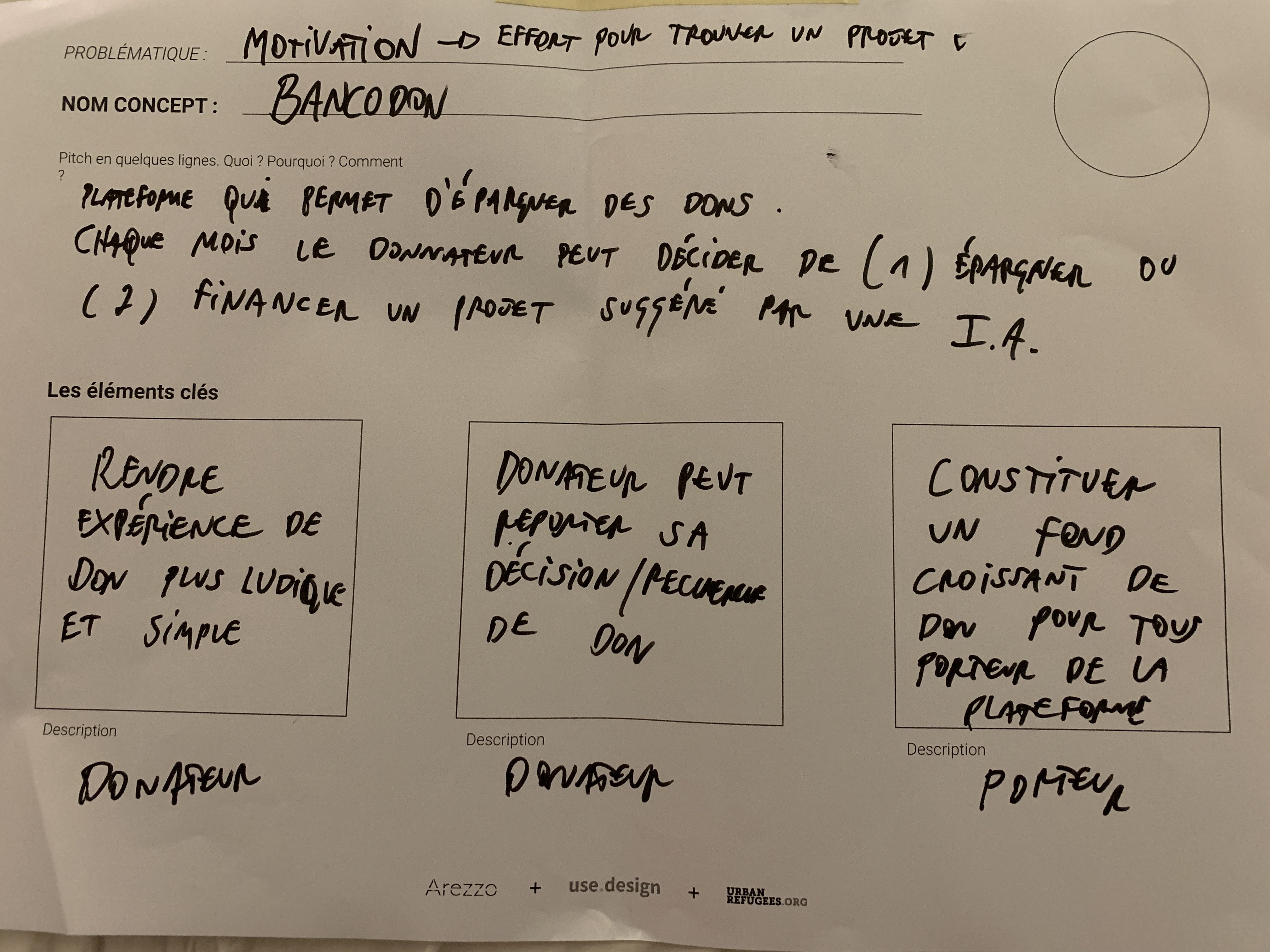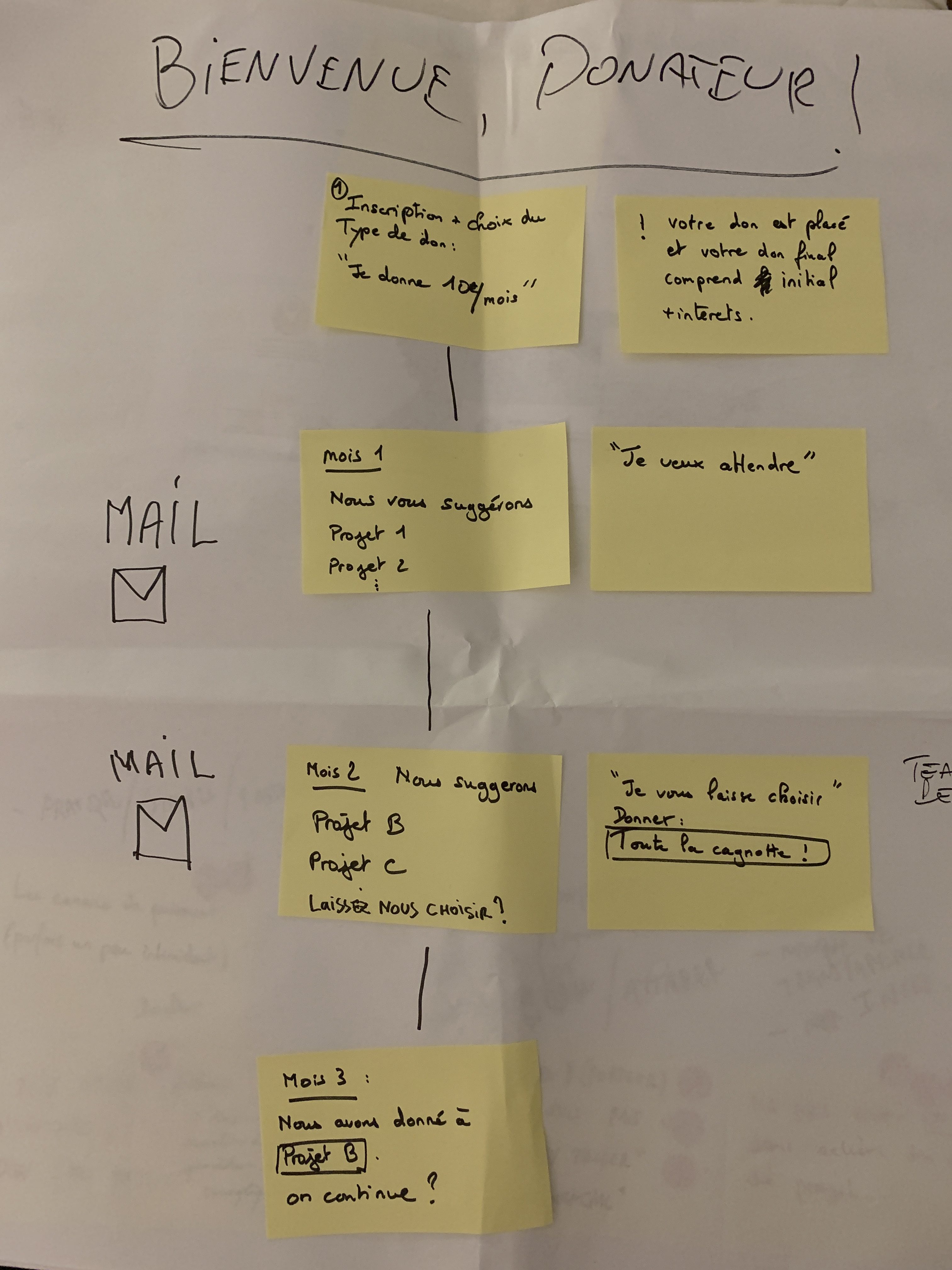 Idea 2 – Template site for project initiators
Communicating an idea, a project or valuing a cause, awakening consciences, it is, above all, based on a good command of the speech: moving, concrete, actionable, empathic, dreamer, enthusiastic… But one may carry ac project, without being a great speaker or writer. How to better explain and convince more, when a potential donor is exposed to a project? This is the whole purpose of this second idea. A website, not unlike a Wix or Squarespace website builder tool, but which takes the creator by the hand, offering editorial assistance, through artificial intelligence ( as deepl.com can do…) as well as a more human support with coaches who are communication experts.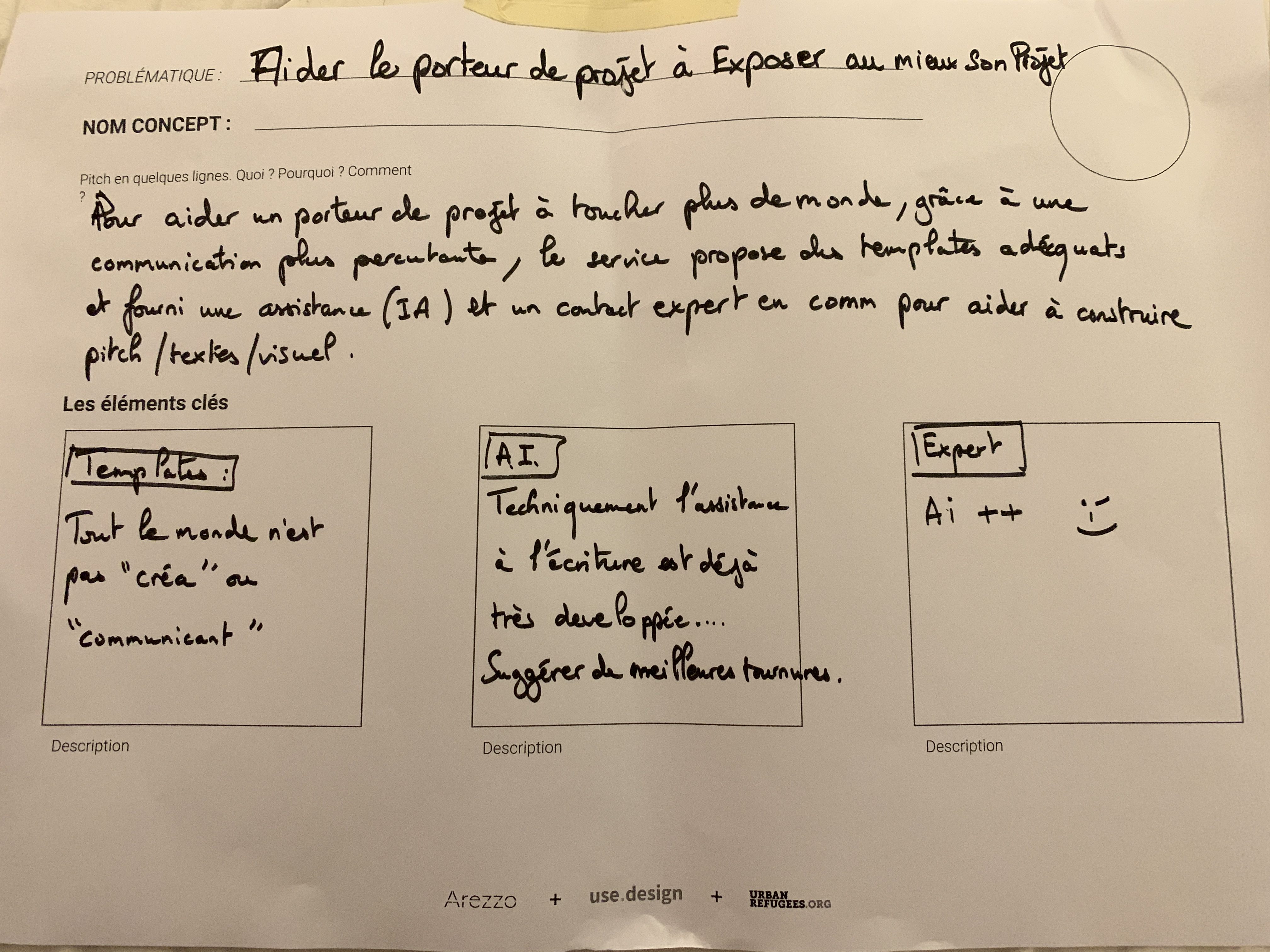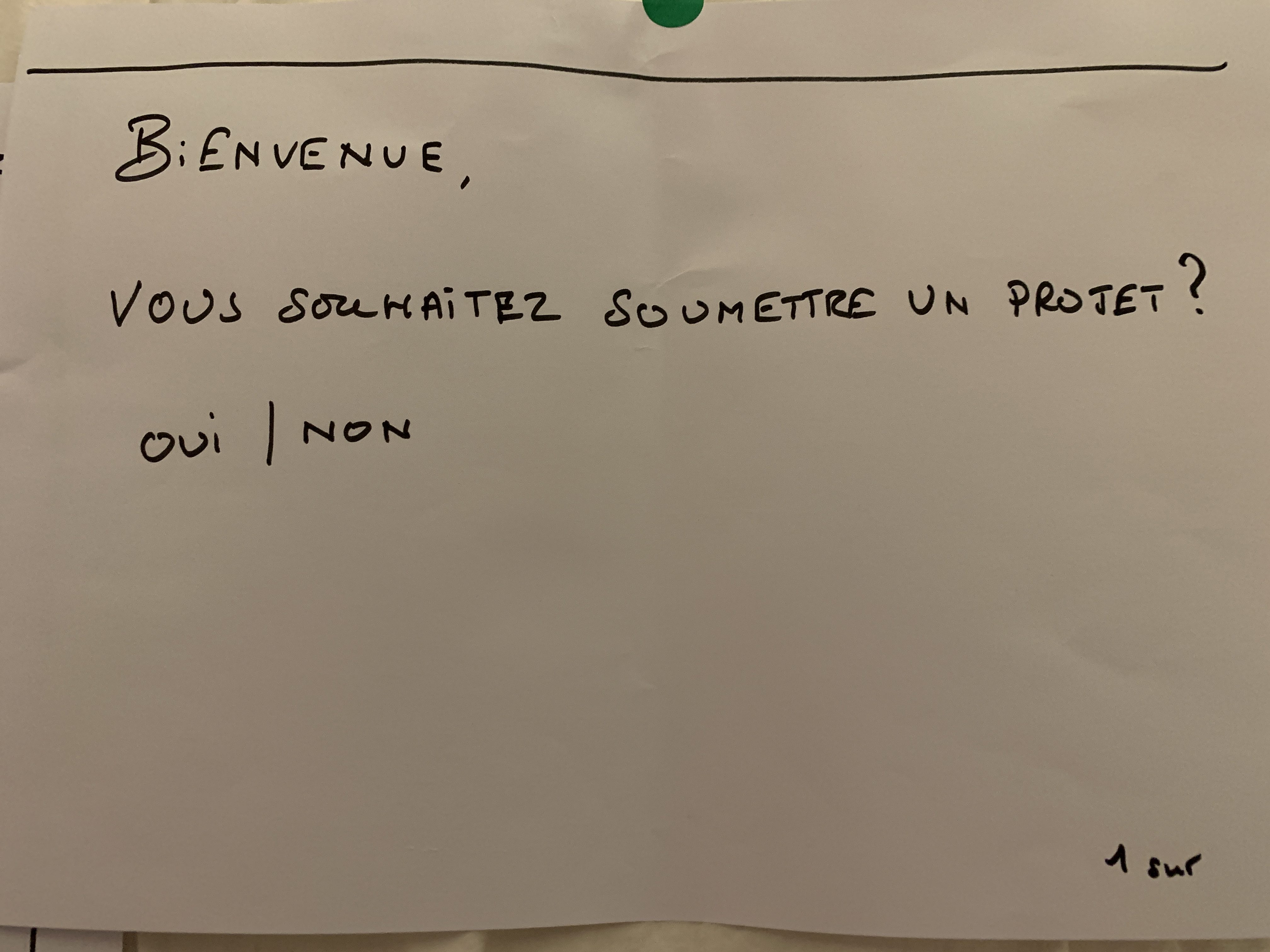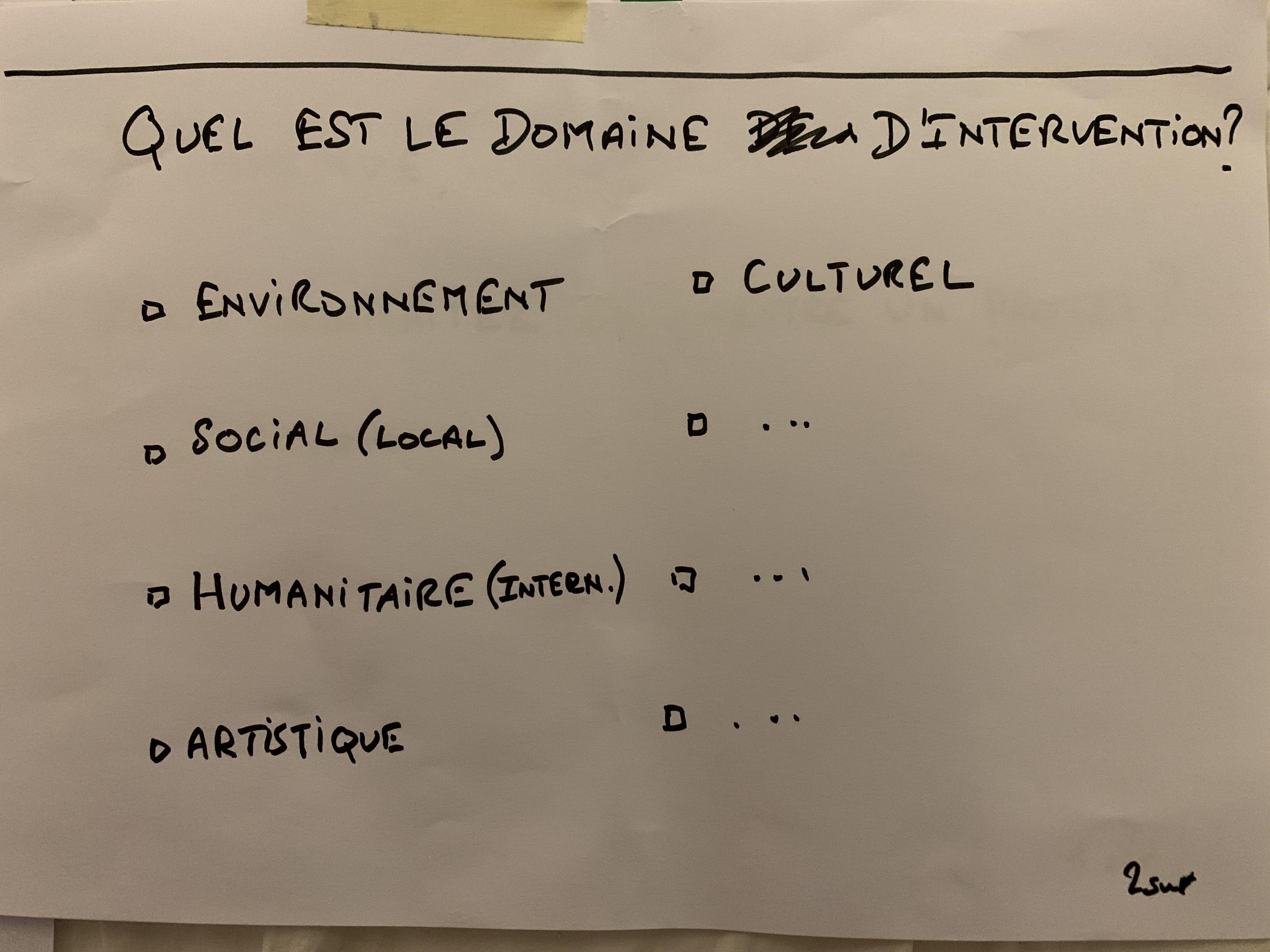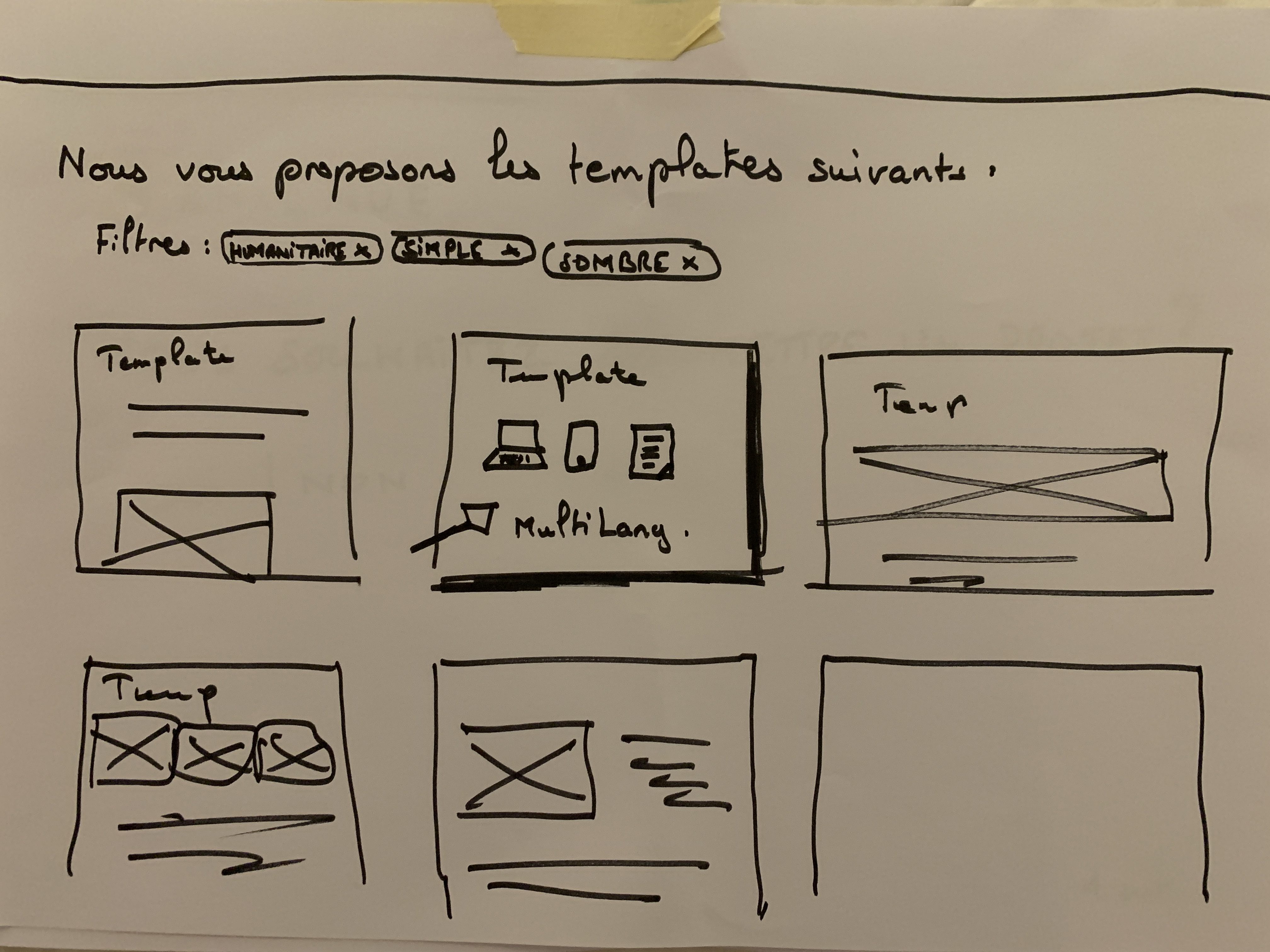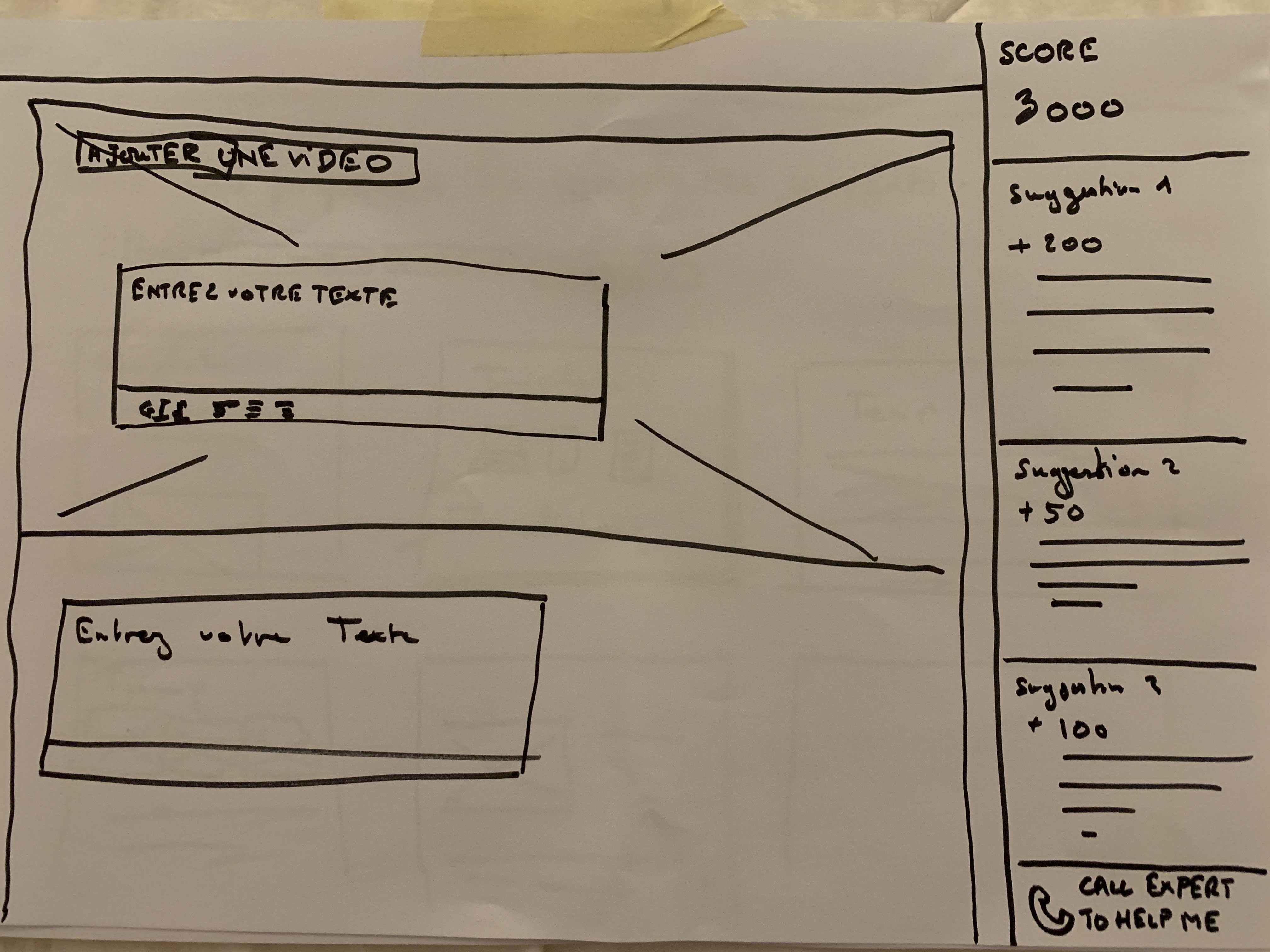 GROUP 2 – How to reassure donors?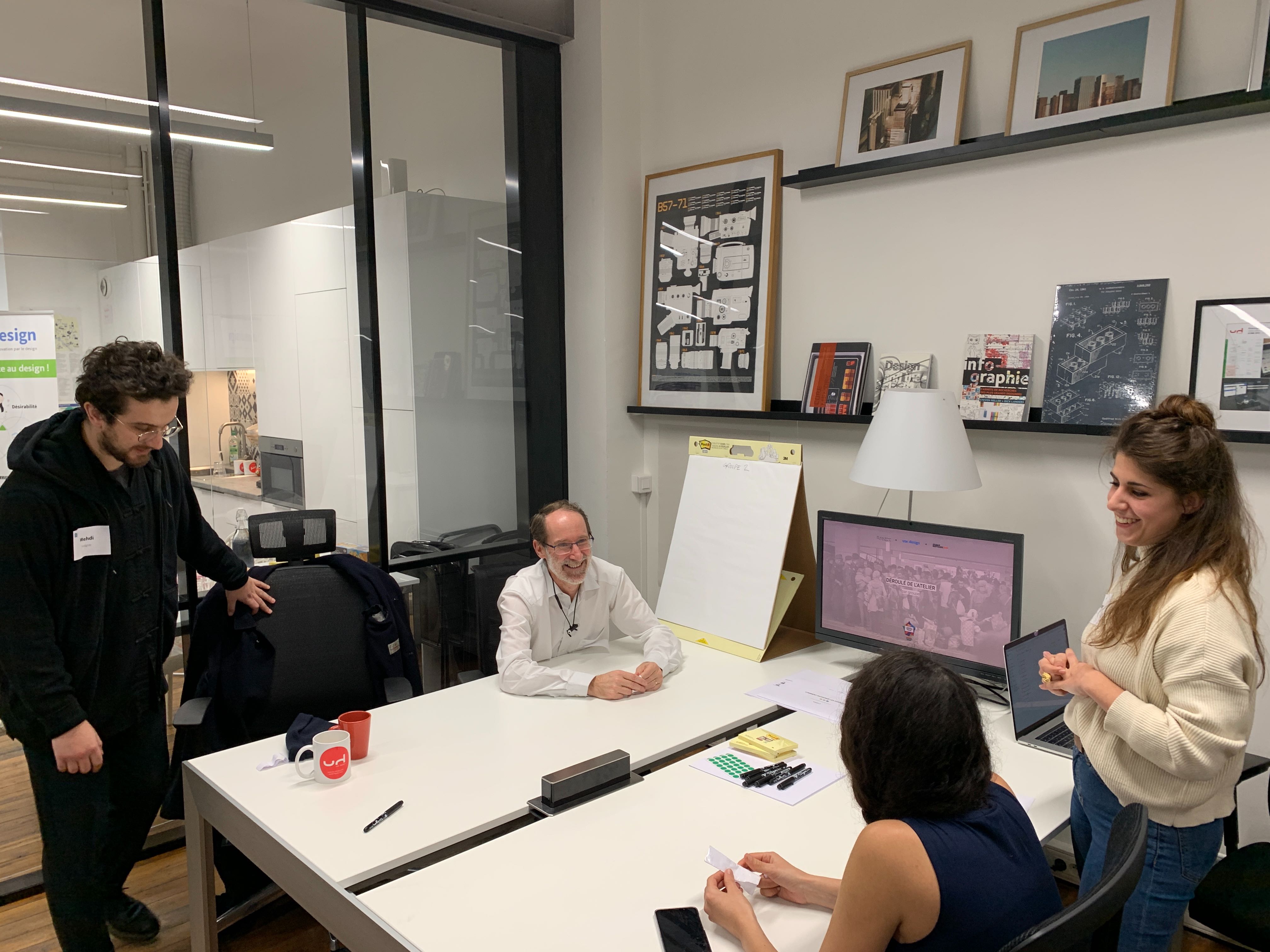 Examples of pain points:
1- For a (future) donor: "what is the evidence of the result of the project to which I am making a donation?"
2- For a project initiator: "I don't have the means to provide the necessary documentation that could reassure, how to do it?"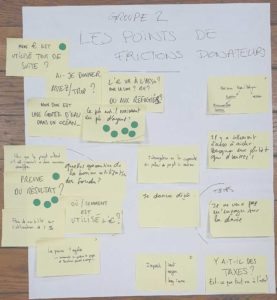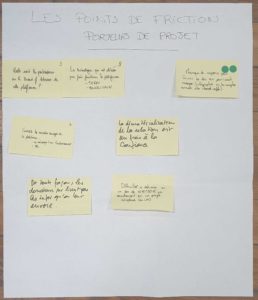 Examples of "How might we…?"
1 – Donor: How could we provide accurate information on where donations are going?
2 – Project initiator: How could evidence of results be provided before and after the donation?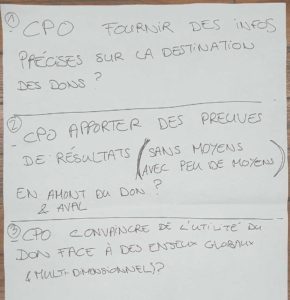 Ideation phase – the profusion!
After a benchmarking and brainstorming session, the group chose to focus on the following idea:
WYSIWYG ( What You See Is What You Give): WYSIWYG is a donation platform that promotes transparency and human connection. In the time available, the group has drafted 3 screen wireframes for the platform.
1/ Visualization of projects open to donations – before the donation:
This page shows in priority the projects that have already received donations and for which there is not much left for the project to be completed. The future donor can see whether the project is at the beginning of the donations or whether it has been launched or whether it is soon to be finalized. Indeed, projects also require donations throughout their implementation. This page also highlights the main information of the projects to have a global vision while reintroducing the human being with an overview of the team working on this project. This presentation both helps the donor to choose while reintroducing the human.

2/ Project page – during the donation:
This screen provides all additional information to donors so that they can finalize their donation. A scale allows donors to visualize what their donation can finance. When the scale is placed on a sum – for example 30€ – the content below is updated displaying the elements for which the 30€ donation can be of use: purchase of materials, training, etc. This content was designed to be organized into 3 groups of needs that would be determined by the project initiator. The donor will be able to choose for which category of needs he wants his donation to be used. This same page would also display the other donors and partners who contributed to the project.

3/ News Feed – after the donation
This page as you may have understood would be a news feed that would allow contributors to follow the work in real time. This information could be notified to donors by a notification or mailing system. Thus, project initiators could give visibility to donors easily and without the need for specific resources. Group participants supported the need to reintegrate people into the platform by proposing to create communities around projects that could meet at events.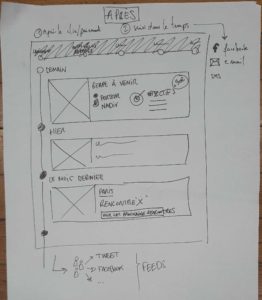 GROUP 3 – How to bring resources to a project?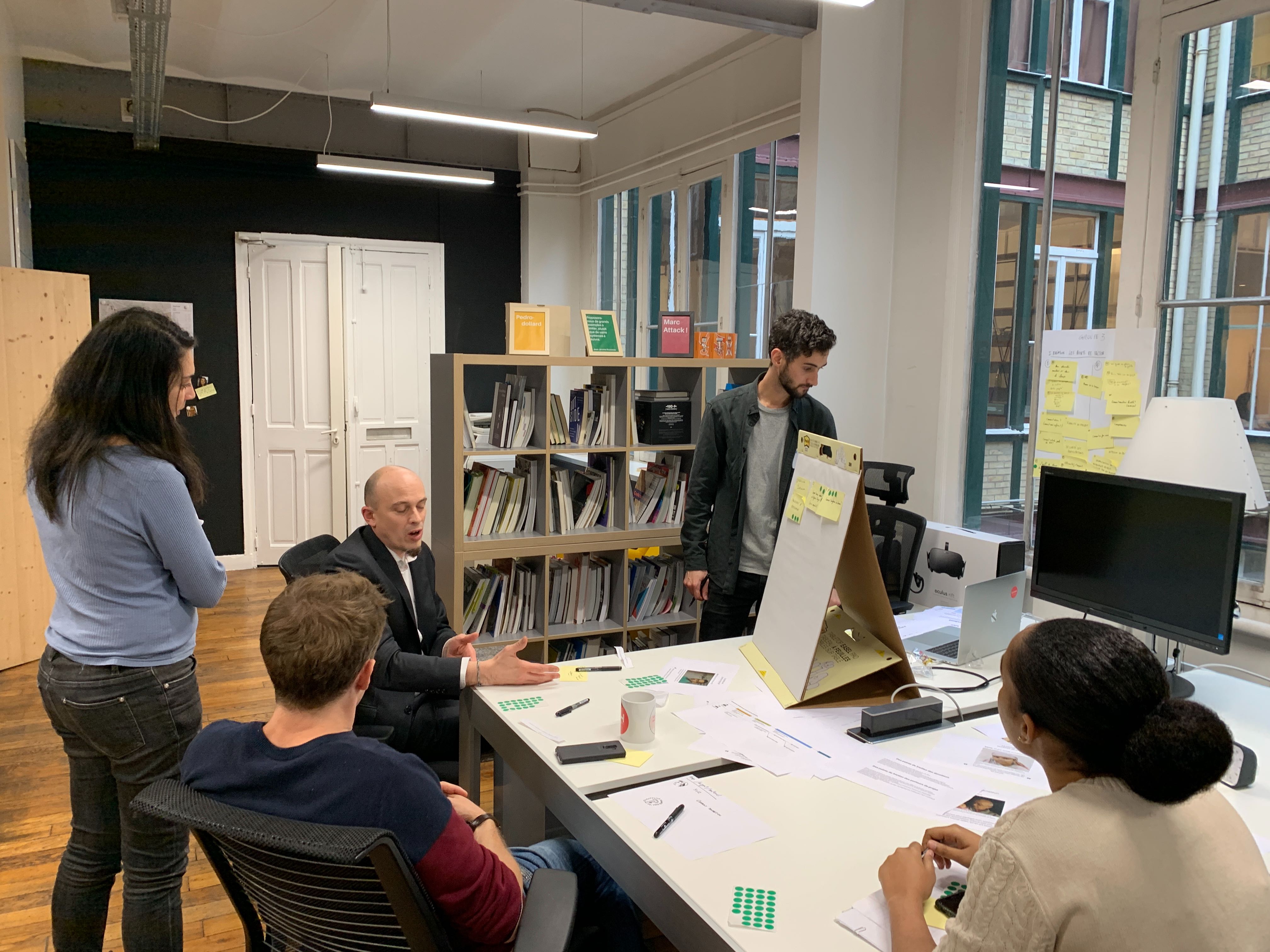 Examples of pain points:
1- For a (future) donor: "There is not much flexibility in recurrent donation, it is difficult to redirect a donation to other projects.
2- For a project initiator: "Many people support the project with "I love" and share but do not give."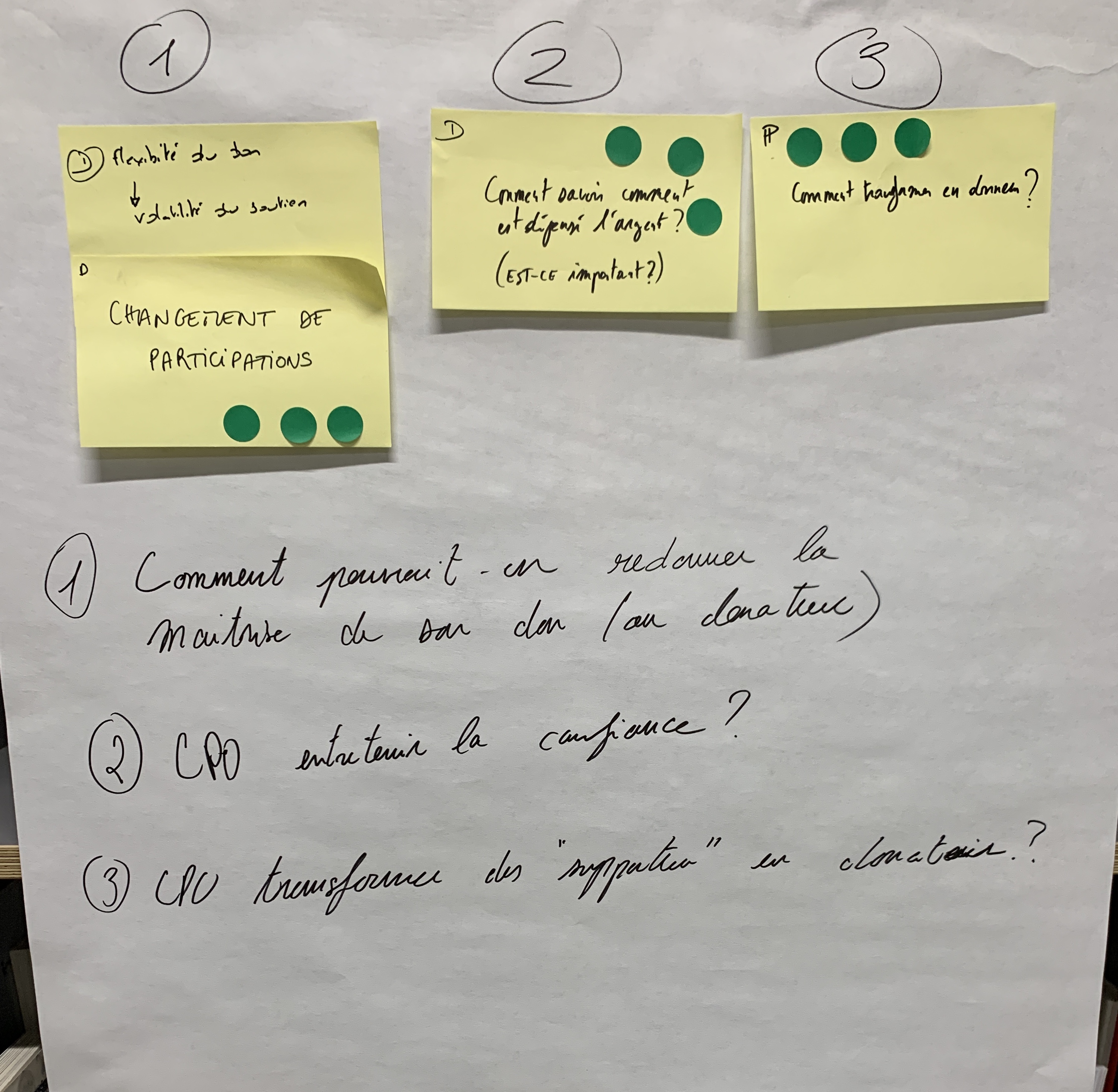 Examples of "How might we…?"
1 – Donor: How could you give back control of your donation to the donor?
2 – Project initiator: How could we transform "supporters" into donors?
Ideation phase – Finding a solution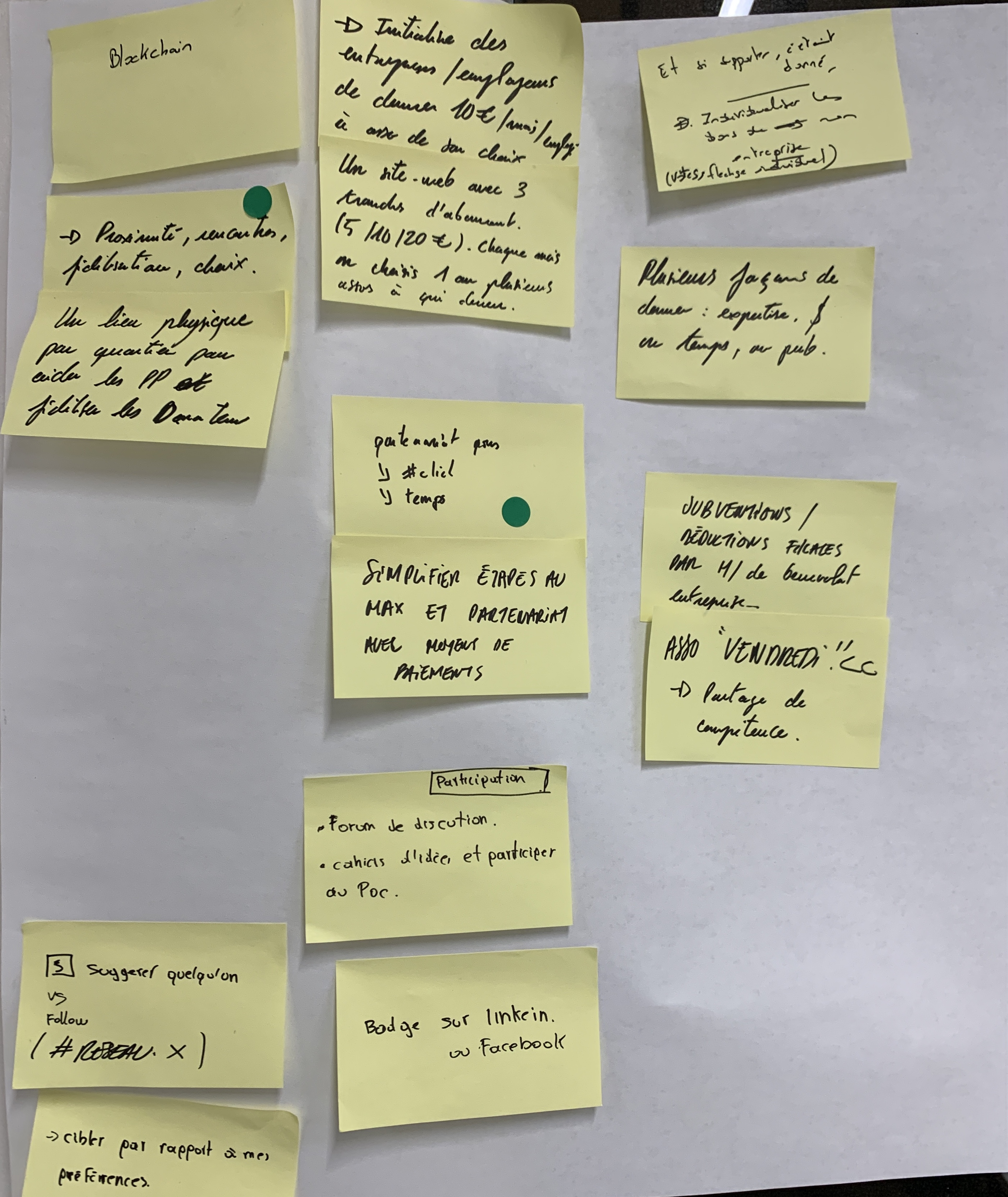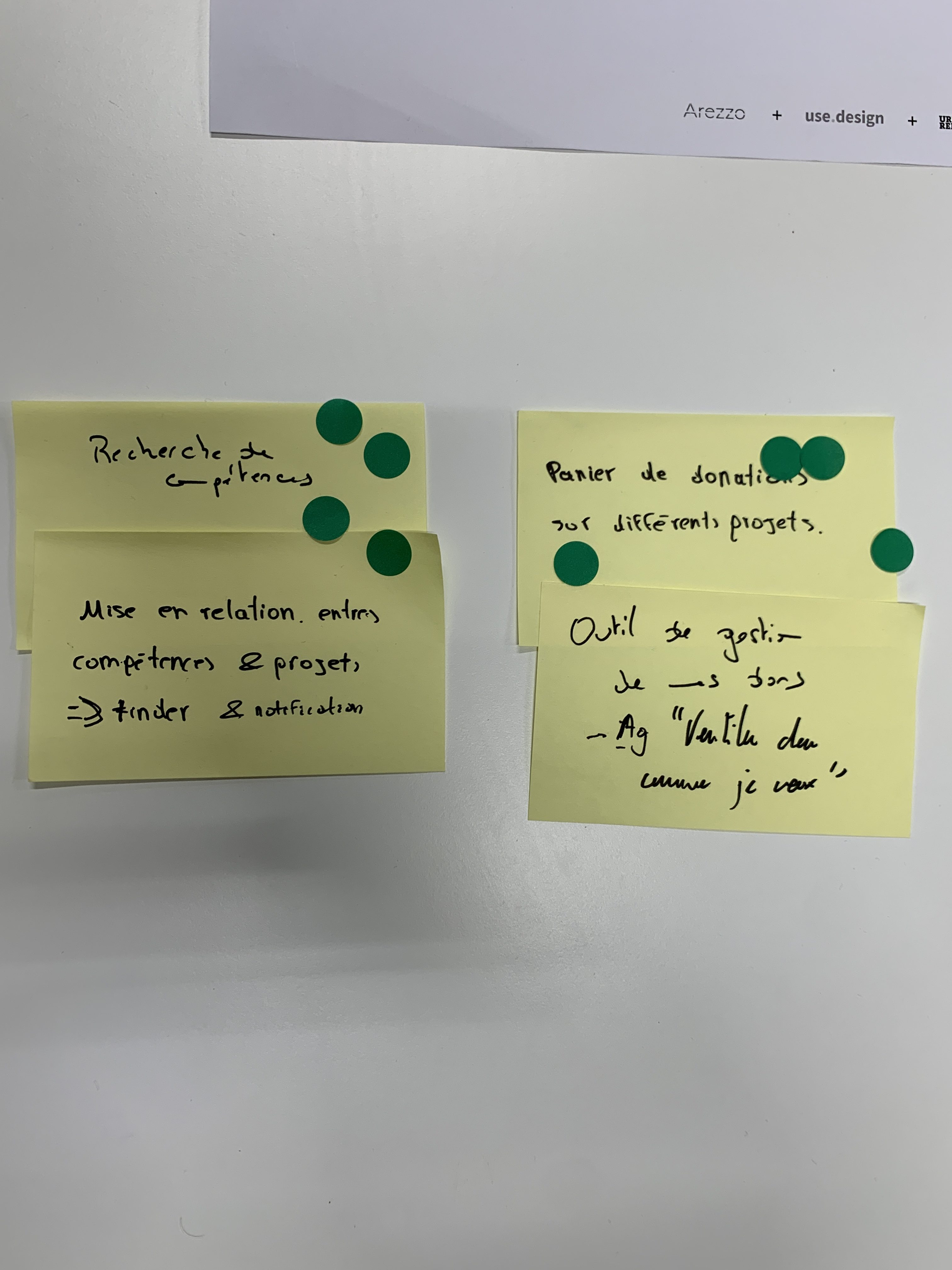 The top 2 most voted solutions
Connecting people who wants to share their skills with project initiators.

Be able to allocate a recurring donation (e.g. 20€/month) to several projects that are chosen each month.
Materialization of solution 1
The group chose to focus on the following idea: "Our Give Skills association develops a platform to connect project leaders with individual or corporate contributors, to help PPs find skills and the contributors find meaning."
The benefits of the project:
1 hour of skills can be very expensive in money. (1h of skills > 10€ donation)

Find free skills easily 

No administration vs. a freelance contract or hiring

Fulfilled ad hoc needs
The benefits for the project initiator:
Give something other than money and make a connection
From 1 hour to several hours a month, there is a format for everyone.
Below is an example ad for Give Skills in the subway.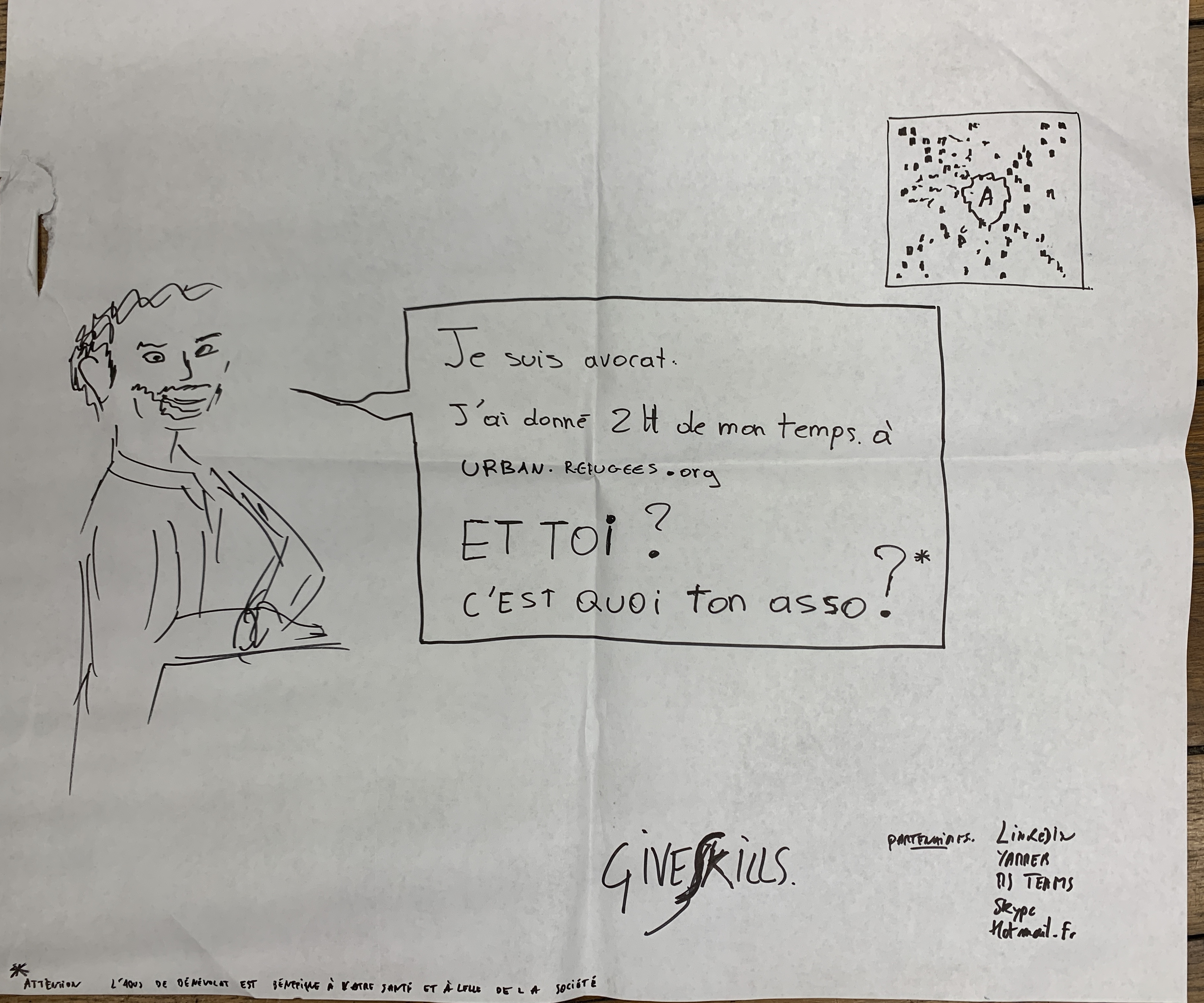 La team —   @ Use Design, une agence de design à Paris qui donne vie à des stratégies, des produits digitaux et des services innovants.